Real Love Summer Fest – 2019 Review and Gallery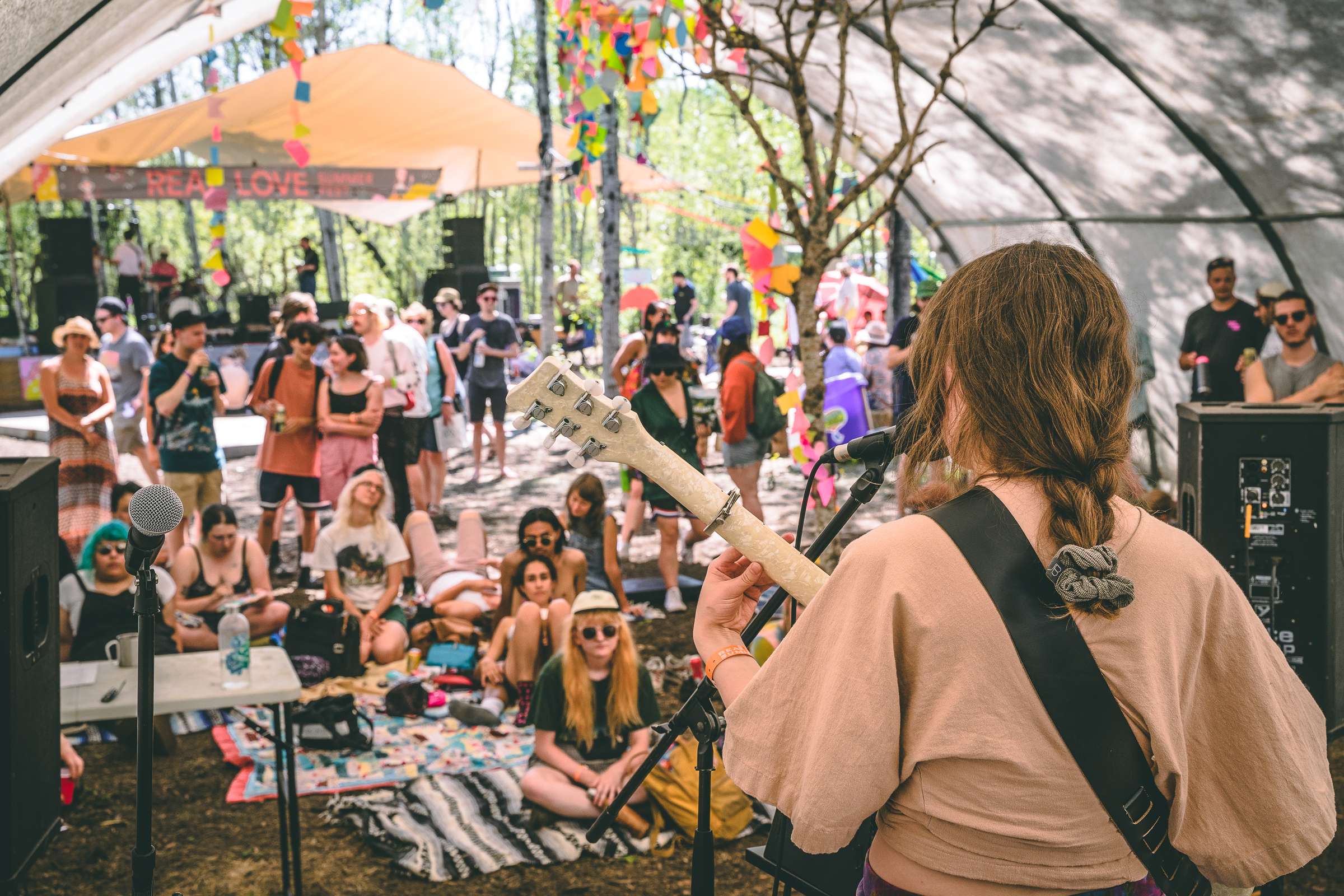 Real Love Summer Fest is a unique festival, particularly due to its size and time of programming. There is one location for music, a large main stage in the middle of the festival grounds and about 40 feet away, a small stage for tweeners to play while the next band sets up. This allows for you to spend all day in one spot, but able to catch all the music. There is no getting lost and searching for your pals that are listening to other music or off on some end of the grounds you didn't know existed. It is all close, discoverable, and comfortable. The music also ends quite early, which allows you to get a good rest or spend time discovering the dome or giant fire pit. 
The genres showcased were vast and varying, featuring the expected indie music, as well as three rappers, loud and wild rock bands, and a handful of assorted other odds and ends. 
The festival isn't comparable to anything locally. Though some festivals have some of the primary festival components, RLSF is the only festival that has high calibre out of town acts and a mandate of 50% local musicians, one location for music, and art installations hidden around the festival. 
Friday featured a stacked line-up of local and out of town acts. Each act is so well established in what they do. Their look, sound, and feel are so tight that you can't help but have a good time. Kicking off the fest was Spooky Eyes, followed later in the evening by an always energetic and rowdy performance from Silence Kit. After them, Dill the Giant and friends took the stage for what was another set full of energy and had the audience vibing to the beat. RLSM does an excellent job of combining artists that would typically be found on separate bills, bridging the fandom in Winnipeg's music scene seamlessly through setting vibes that cater to the flow of the night rather than catering to a genre. 
Begonia finished off Friday night with a performance that can only be described as euphoric. It is something we've grown to expect from a Begonia set, but each time she elevates her game to a new level. The sky's the ceiling for Begonia, and the crowd witnessed her soaring that evening.
The feel of Saturday was dictated by the acts that were playing. Chill vibes with three excellent local acts that picked up in pace with Jaywood and switched up entirely when out of town act Fitness hit the stage with weird upbeat tunes.
Not to be overshadowed by the music were the creative art installations. The Wall of Love, Bird Sanctuary, Flux+Umbra, and the Compliment Booth to name a few, were included in the stacked festival line-up. Interactive and fun, these initiatives help bring the crowd together and bond over more than music.
Ivory Waves took the stage in the evening with Brett Ticzon swooning the crowd accompanied by their soft medleys. They were followed by an awe-inspiring performance from McKinley Dixon, all the way from Maryland. Spitting to a primarily white crowd, Dixon wore a "Destory White Supremacy" t-shirt and rapped about heavy content including violence, police brutality, and white supremacy. The crowd was absolutely in awe of his band and sound. The only interruption was a temporary fly-in by a lost bat. 
RLSF's commitment to bringing in diverse acts from all over North America make them one of the standout festivals in terms of new music, blending them with an eclectic cast of Manitoba performers.
Remo Drive capped off Saturday night with a wild set. Their chemistry was incredible and their pop-punk hard-driving sound had the crowd going equally as wild. The perfect send off to a great day of music and art.
Sunday started out with a bit of rain and cooler weather, signalling the end of another successful Real Love Summer Festival. The festival was closed out by pout and Heinrichs Maneuver, playing on the Whale Stage for an intimate crowd.
This festival holds a special place in our hearts. From the artists to the organizers, and the crowd, it's a festival that does an excellent job of bringing folks together and exposing them to well-curated music in a safe and welcoming environment. Congratulations to the Real Love Winnipeg Team on another memorable year.
All photos by Mat Kleisinger. @kleistea on IG