2019 Festival du Voyageur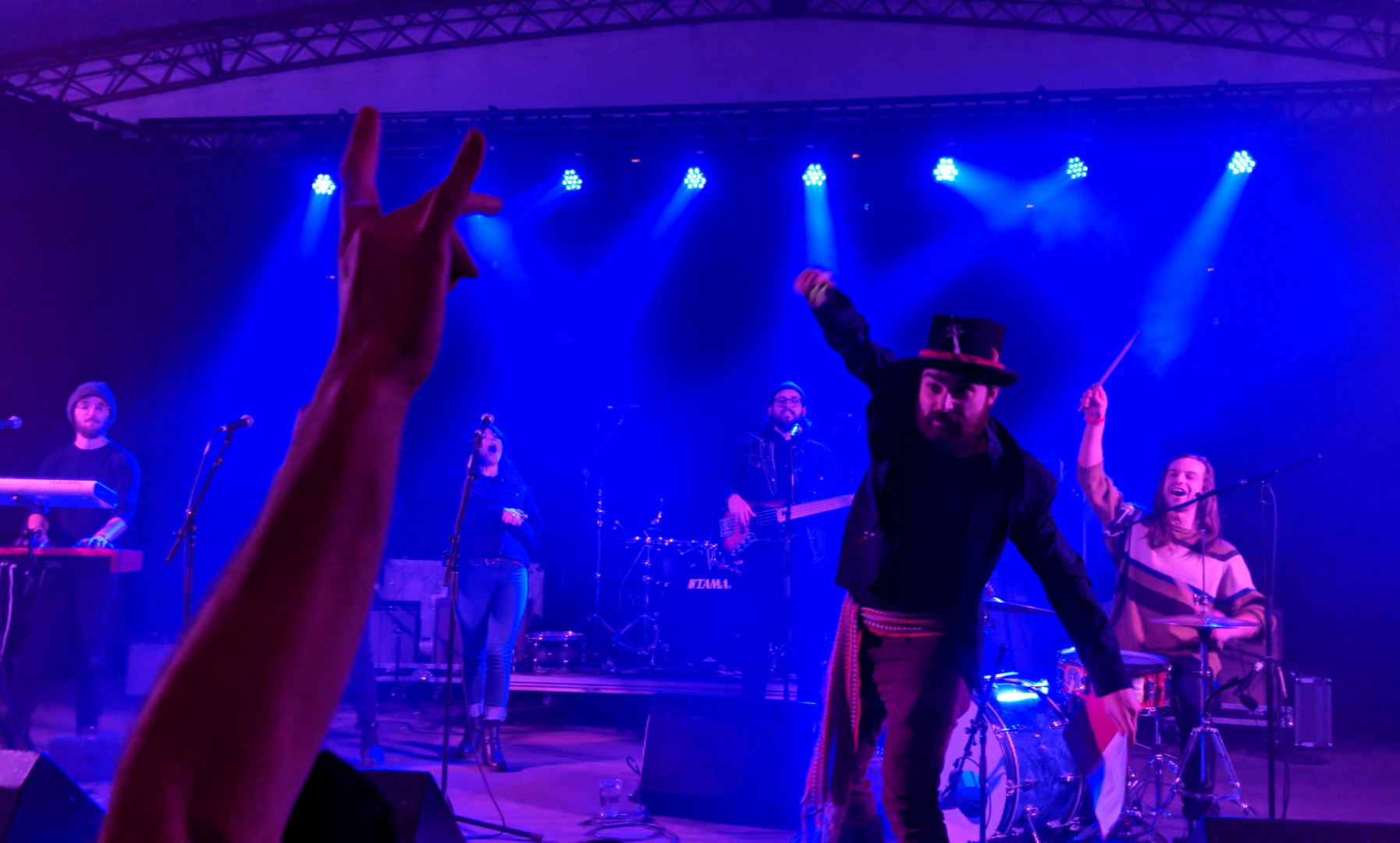 The Paper Cut Winnipeg Team is proud to be a media partner at this years' 50th anniversary of Festival du Voyageur. We're sharing our highlights from both weekends at one of Manitoba's most beloved winter festivals, featuring our favourite photos from our guest photographer, Elliott Sloan.
Winters in Winnipeg can be rough. This winter in particular has been unforgiving with its harsh temperatures and lack of sunshine. Much like Groundhog Day, where we eagerly await a hopeful prediction of an early spring, opening ceremonies at Festival du Voyageur incite seasonal optimism. Spring isn't far away, and for ten days, we get to tackle winter head on, with friends in tow and a shot of Caribou in hand.
Local, Roman Clarke, played Friday night in the Bell MTS Rivière Rouge Tent. His new single Someday was released that morning, and if the packed crowd was any indication, it was well received. His almost gospel-like vocals compliment his poppy sound so well it that carried the crowd from one song to the next seamlessly.
Next up, The Dome for the Silent Disco. New to the festival this year, attendees have their choice of three stations with DJs mixing jams that cater to almost anyone's musical taste. Friday evening was curated by Anthony OKS and Zuki and gave the audience three unique mixes to jam to.
Switching things up to the other side of the musical spectrum, we capped things off with energized performances from Slow//Steady and local punk icons, The Ripperz at the Snow Bar.
Something we all appreciate about Festival du Voyageur is its musical diversity, both locally and nationally, and the different crowds that get to experience new sounds.
Saturday evening we caught just a few of the many performance, as any voyageur knows, pacing and recovery are key if you want to make it to the end of the festival in one piece. Liam, another member of the formed Middle Coast, performed in the Forest Tent with his band. Donning a John Snow-esque fur cape, the local pride was strong as people were singing along to his new releases as well. Liam is a reliably good musician with a strong band and great songwriting skills that he carries from project to project, he has the midas touch, if you will.
We were most compelled to check out Convenience at the Bell MTS Rivière Rouge Tent for their debut show. The local synthesizery pop-r&b duo was tight and full of energy. Adam Hanney worked the stage and his instruments (synth and vocals) while pointing at cameras, teetering on the edge of the stage, and jumping off the stage and reaching out the audience. Bold for a first show, but his dreamy confidence was just enough to hype up the crowd. Coupled with his tunes, it was a very memorable performance and definitely one to check out as soon as they book their next gig as they will be selling out local shows in no time.
Post Hanney hype-up was a performance from local dream pop quintet Living Hour. With tunes that didn't peak above a walking pace, the performance was the perfect wind-down to a long day of partying. The performance was exceptionally dreamy with crisp sound and streaming rainbow lights that bounced off the horns of some additional musicians. They played some of their new tunes from the fresh release of softer faces, as well as some unconventional covers of Cher and Simple Minds. Though the Bell MTS Rivière Rouge Tent is usually the party tent, the soft and compelling performance wasn't lost on us as it was with some of the other patrons with Caribou induced weak knees. We are looking forward to the upcoming album release that will be for a more intimate and appreciative crowd.
Sunday evening was Manitoba Film & Music Night. Under the Bell MTS Rivière Rouge  Tent, we caught our first of Anomalie FDV performance and were absolutely enthralled with their versatile, electronic sound.
After that, Super Duty Tough Work kept the energy flowing with a diverse performance including an amazing set from former Paper Cut guest, Marisolle Negash. 3Peat was the icing on the cake, with their best performance we've seen from them to date. Between the excellent flow from Steve, E.GG, and Dill the Giant, synced up in perfect unison with another former guest and producer extraordinaire, Anthony Carvalho, 3Peat delivered a purely hypnotic set, energy rich set.
Louis Riel Day Monday, we took to the festival grounds to take a break from the music to enjoy the activities and franco-ambience of the festival grounds. The beautiful sunny afternoon was complimented well by the seemingly endless flow of ceinture fléchées. Micah Erenberg took the stage at the Snow Bar in the afternoon and serenaded a crowd with a 40 minute set of his unique storytelling through his songwriting and excellent acoustic accompaniment. Micah has become a staple of the Manitoba music scene  with his "make you feel at home in the prairies" sound and style.
That wraps up our long weekend at Festival du Voyageur. We're looking forward to the next week of activities. Stay tuned for our week two recap, and enjoy some of our favourite snaps from the long weekend.
Hé ho!