Amos the Kid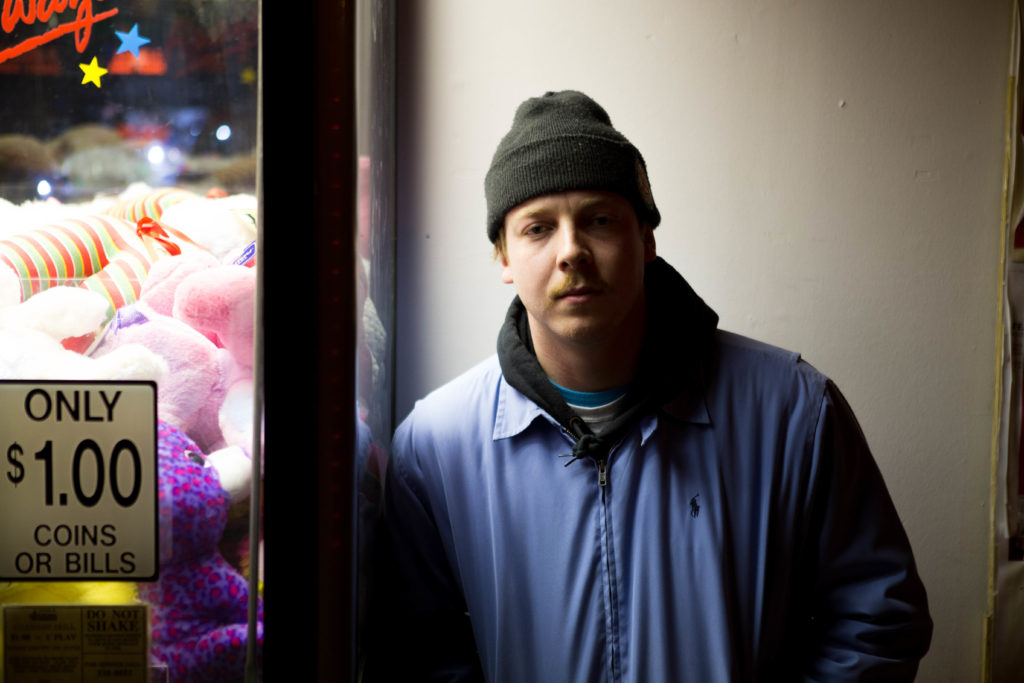 Article originally published in Stylus Magazine Feb/Mar 2020 Volume 31 Issue 1
Amos the Kid is set to release an album in the Spring of 2020 following seven years of writing music and a year-and-a-half of recording and preparing to release his EP. 
"This album will be the first official thing I've done" said singer and guitarist Amos Nadlersmith. 
The band, as it stands, has gone through many changes and iterations to arrive at the current group of musicians who recorded the album and now perform live. Nadlersmith (guitar, vocals), Adam Fuhr (guitar), Jensen Fridfinnson (keys, vocals), Jordan Cayer (bass) and Brian Gluck (drums) are Amos the Kid. 
Nadlersmith changed the name of the band pre-album release from Shoal Lake Kid to Amos the Kid though the band membership and songs have remained the same. The new name is much more representative of his ethos and he wanted to respect the communities and people who live near Shoal Lake, a place he holds dear. 
"I was thinking a lot about [the name] Shoal Lake Kid and how it's not representative of myself and it's misleading almost. I essentially vacationed at a summer camp on Shoal Lake every summer but there's a lot of kids who live on Shoal Lake, and people who live there. Names mean a lot and for me to represent a place through my name, especially a place as significant as Shoal Lake, it didn't really feel right."
Nadlersmith was born into a musical family. His grandmother Rita played violin and piano at local events, his father plays the banjo, and his siblings all play instruments including violin and piano. 
"So I was homeschooled – this is probably the first time people are going to hear that – and we were made to take violin lessons, me and my three siblings. I hated violin so I got put in guitar."
His mother was also a big fan of live music.
"She was really into music, like she would follow the Grateful Dead around on tour and was friends with Frazey Ford of the Be Good Tanyas and went to Folk Fest. We would go to Folk Fest with her every year and she was always just like a Blue-Rodeo-Mom."
Nadlersmith moved to Winnipeg seven years ago and began to religiously attend local shows after getting a job at the Goodwill Social Club in his late teens, citing Animal Teeth as an early local favourite. He admires the support from more experienced bands in the local music scene and how meaningful it was for them to take notice of newer projects, such as his own. 
"I always thought that was a way the music scene perpetuates itself. Now realizing I am in my mid-20s and have been around for a while, I get to do that now" Nadlersmith said.  
"That's why I am working on an album. People I looked up to wanted me to record something and encouraged me, so it goes full circle I guess."
The first iteration of the band playing Nadlersmith's songs post-solo-stint was called SOUP featuring Adam Soloway, Gil Carrol, and Sam Sarty of Living Hour and Brian Gluck, who still plays drums with Amos the Kid. What started as several friends encouraging Nadlersmith to play with other musicians turned into the inspiration he used to start his full band. "[The idea] was kind of a joke but then the show was really fun, and I [thought] 'playing with people is really fun and I should do this more often.'" 
Living Hour went on tour shortly after and logistically Nadlersmith concluded playing with an actively touring band wasn't possible if he wanted to move forward with his music. "Brian Gluck and I wanted to keep playing together and were throwing around ideas and that brought us to where Adam [Fuhr] convinced me to record with him. We needed people to play on the album so I asked a bunch of my friends to play on the album and those people are who perform it live."
The EP, set to be released early this year, is a collection of six songs, some of which were written around seven years ago. "I wrote Mountain View around my second year living in Winnipeg so 2013 or 2014," he said of the oldest track on the album.
Along with the current musicians on the album, Shawn Dearborne plays lead guitar on one of the tracks and Nadlersmith also had a companion and mentor in writing lyrics. He spent time sharing and revising his lyrics with friend and poet Noah Cain. Nadlersmith credits Cain for his work on some of the lyrical composition of the album. 
"My good friend Noah Cain is poet/writer from Thunderbay and he would say he writes poetry for the eastside of Thunder Bay, which I always liked. I think I write music for the south side of Boissevain. I don't write songs for Boissevain but I write songs for the Turtle Mountains."
"My songs are written about three things, all areas of land. One would be the southside of Boissevain – Turtle Mountains, where I'm from. Others are written about Winnipeg. The rest are written about Shoal Lake, where I spent a lot of my summers as a kid at camp."
Two singles are set to be released in February and March, respectively, the full EP will be released in April. "It's summer music. I don't really want to release it in the winter because the songs are better suited to doing things in the warm weather."
Fans of Amos the Kid can be sure that their appetite for an album is just as strong as Nadlersmith. Though Nadlersmith is anxious to hear what people think of the album and how it performs on streaming services, he really values the time and effort people put in to the creation of Amos the Kid and the upcoming album. 
"I'm excited to see what people think, I'm interested in how it will do on Spotify, but it's also just been really nice to play with my best friends."
words and photo by Olivia Michalczuk